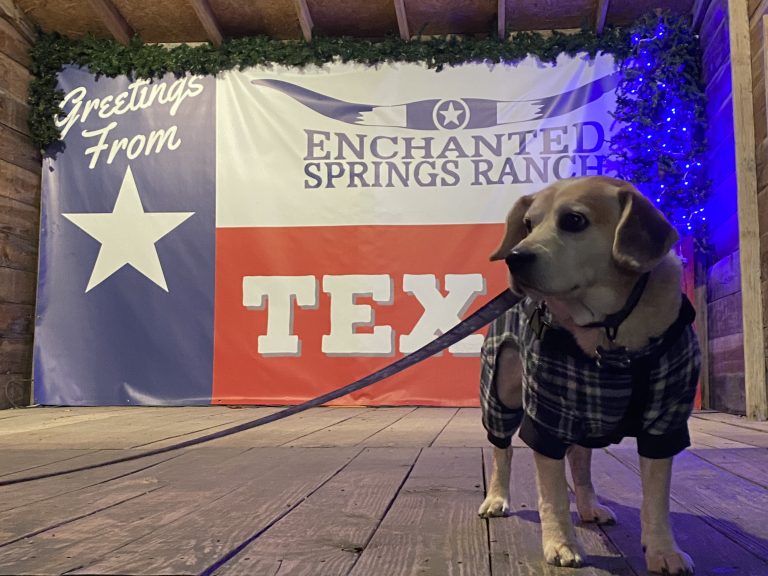 The holiday season brings warmth, togetherness, and an undeniable magic that touches every heart. Did you know that you can share that magic with all of your loved ones – including your four-legged companions? At the Old West Christmas Light Fest, the enchantment extends to every member of the family, both two-legged and four. Get ready to embark on a festive adventure with your canine pals as we delve into the dog-friendly wonders that await in this charming Old Western wonderland.
A Festive Welcome for Furry Friends
There's something truly heartwarming about watching your furry friend's tail wag in delight as they experience the joys of the season alongside you. At the Old West Christmas Light Fest, we embrace your furry companions with open arms. As you stroll through the festively adorned Old West town, your dogs can be right by your side, taking in the twinkling lights, the rustic charm, and the holiday spirit that fills the air.
Paws for Photos with Santa
Capture the purest expressions of holiday joy as you and your furry friends strike a pose with Santa Claus himself. Indoors, among the festive decorations and the cozy atmosphere, your dogs can share in the magical moment of meeting the jolly old man in red. It's a memory that will shine bright in your hearts for years to come.
The magic of Christmas classics doesn't just extend to human ears. As you explore the Old Western town, the sounds of beloved holiday melodies will accompany you and your dogs every step of the way. The timeless tunes will set the backdrop for an evening of merry exploration and joyful memories.
Paw-sibilities for Shopping and Snacking
While you indulge in shopping for festive trinkets and treasures, your furry companions can soak up the atmosphere and maybe even find their own paw-some delights. And when it's time to savor the flavors of the season, you can enjoy food trucks, snacks, and even beverages, including beer, wine, and comforting hot cocoa.
Leash Up and Let the Magic Unfold
Your dogs are invited to join in on the holiday fun, with the only request being to keep them leashed to ensure a safe and enjoyable experience for everyone. From the magical lights to the cozy Santa encounters, the Old West Christmas Light Fest is a place where tails will wag and memories will be made.
This holiday season, unwrap the gift of togetherness and create lasting memories not only with your loved ones but with your furry family members too. The Old West Christmas Light Fest beckons you to experience the magic of the holidays with every wag of a tail, every joyful bark, and every heartwarming moment shared between friends, both old and new. So, leash up, grab your four-legged companions, and let the enchantment of the season envelop you at Old West Christmas Light Fest!