'Twas the night before Light Fest, when all through the town
Not a creature was stirring, not even a cow;

The lights were hung throughout the street with care,
Knowing St. Nicholas soon would be there;

The longhorns were nestled all snug in their hay beds;
While visions of tasty treats danced in their heads;

Mamma in her 'kerchief, and I in my cowboy hat,
Had settled our brains for a comfy winter nap, 

All rested peacefully, knowing what tomorrow would bring,
A season filled with laughter and songs everyone loved to sing. 

'Twas the night before Light Fest, oh what a delight,
"Happy Christmas to all, and to all a good night!"

 
Oh, how the time has flown by! It's finally here – Christmas Light Fest! We've been hard at work to make sure this year's season is filled with special activities, flavors, and fun for our community. The sprawling 6-acre Old West town is the perfect backdrop for a classic Hill Country Christmas! Covered in twinkling Christmas lights, guests can enjoy delicious local food, shop local artisan wares, and relax with friends and family in a unique, holiday festival!
This year, fun holiday activities include taking pictures with Santa (For Free!), Laser Tag in the Lights, Scavenger Hunt, Children's Light Maze, and more! You can enjoy yummy hot cocoa and toast your own s'mores at the campfires. Taking pictures is a must, the Old West town is filled with picture-perfect photo ops like the Candyland Instagram Room or for those on the naughty list, the Old West Jail.
This year also features a brand-new online virtual event guide. Getting in the glow has never been easier! Scan the QR code when you first arrive and have everything at your fingertips! The guide features an event map, details on food, shopping, and entertainment, and who to contact in case you need assistance! For the most up to date information, be sure to also follow us on social media! Show us your holiday spirit by using #ChristmasLightFest this holiday season, we love sharing your experiences so that everyone can join in on the fun!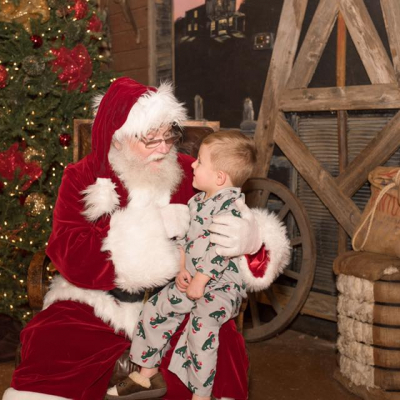 The Light Fest team is committed to providing a safe and healthy event for guests to gather and celebrate together! Employees' health will be monitored, including temperature checks and symptom monitoring. All employees will be wearing masks and sanitizing often. With increased signage, we've made social distancing easy to follow and guests will be able to spread out throughout the outdoor spaces.
Thanksgiving is a special day for us all to pause and reflect on what makes life so special, being surrounded by friends and family who support and love us. We hope that your Thanksgiving is a special time for friends and family to gather and spend time together. The Light Fest team is grateful for the special people in our lives and we can't wait, starting next week, to continue celebrating with you this holiday season!